Operational Change: Why P&C Carriers Need Digital-Savvy Employees
Digital transformation is sweeping insurance. New methods to ensure security, faster claims processing, personalization of insurance offerings and increased transparency have all resulted from a move toward a digital future.
Digital technologies and platforms provide new opportunities for innovation in insurance and related industries. For instance, many insurance companies have embraced innovation in the form of autonomous vehicles and connected home devices like thermostats and moisture sensors, says Toni Tomic, head of IBU insurance at SAP.
Innovation is essential within insurance companies as well. It's particularly vital for incumbent insurers, who face new competition from insurtech startups and other competitors, says Gustavo Gómez, founder and CEO of Bizagi. In order to innovate, insurance companies will need digital-savvy employees with a deep understanding of the opportunities and challenges that new technologies provide.
The Changing Landscape of Product Distribution
Few aspects of insurance have been left unchanged by the digital revolution. Product distribution, however, stands to be an area that experiences some of the most change over the next decade.
Being able to distribute products through new channels and being able to bundle a variety of products that an insurer wouldn't normally underwrite will be a revelation for incumbent carriers.
With so many options for transformation in play, it is perhaps unsurprising that 90 percent of insurance executives have a coherent, long-term plan in place for technology innovation in their businesses.
Many insurance leaders express enthusiasm for the potential benefits of new technology. "The operational efficiencies you can capture by applying technology to the middle and back office are a huge, real-time measurable benefit," says Greg Baxter, chief digital officer at MetLife.
Yet not all of these plans center or even consider the role insurance company employees will need to play in digital innovation and transformation. In the end, digital technologies are merely tools. How your staff understand and use those tools will determine how digital transformation drives the company's growth.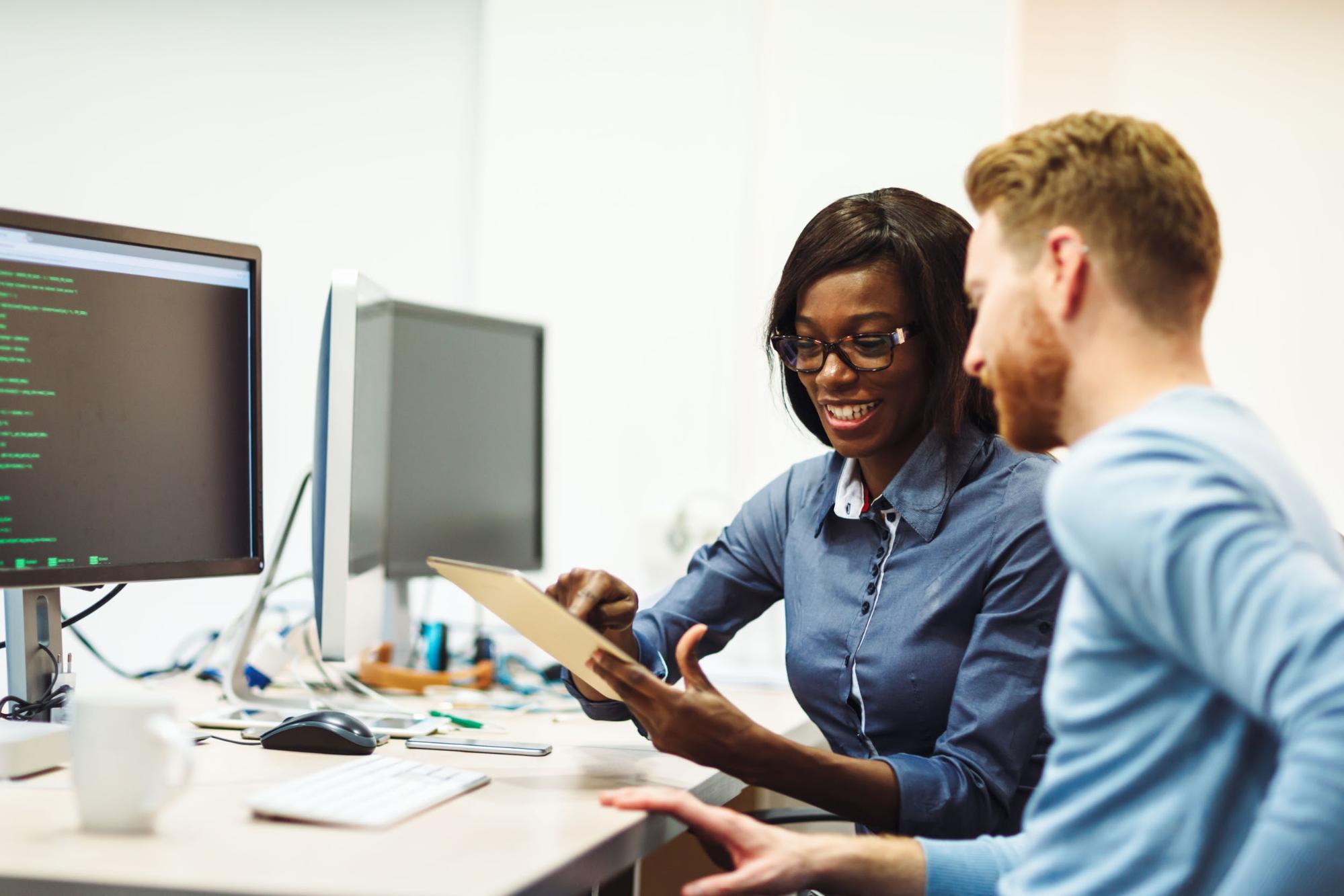 Which Digital Skills Do Employees Need?
A digital skills gap currently exists across industries. In a joint CapGemini and LinkedIn study, 54 percent of businesses said that the digital talent gap was slowing down their digital transformation plans, costing their businesses some or all of its competitive advantage.
The digital skills gap arose from two primary causes: the transformation of businesses onto digital environments, and the inability to extract business processes from software and hardware, says Ryan Craig at the Progressive Policy Institute.
To succeed in a rapidly-changing insurance environment, employees need a number of digital skills.
Foundational digital skills are necessary for work in a digital environment. They include the ability to use computer hardware and software, carry out tasks in a digital environment and access information or tutorials, say Ian Hecker and Pamela Loprest in a 2019 Urban Institute study.
Currently, 78 percent of middle-skills jobs require foundational digital skills. These jobs include a wide range of positions in insurance. Ensuring staff have a strong foundation in these skills helps workers respond more flexibly to changes in technology. These skills also help digital-savvy employees use tools to innovate and to engage more fully with a changing insurance world.
A 2019 LinkedIn study identified cloud computing as the top in-demand digital skill, says Abigail Hess, a reporter at CNBC. Currently, cloud computing stands to revolutionize insurance in a number of ways, from de-siloing insurers themselves to positioning insurance coverage in a personalized manner. Insurance ecosystems also depend on cloud computing in order to share information and meet customers at the precise moments in their lives when they require coverage.
While many workers are familiar with using software that operates in a cloud environment, fewer understand the technology behind cloud computing. When insurance professionals understand how cloud computing works, they're better equipped to innovate with the available technology. They can also better address security risks that come with cloud environments.
AI stands to revolutionize the digital world, but most insurance professionals don't have the skills or education to implement it.
"The number of people who can truly build AI skills and AI models is small, so we are about to see a really exacerbated problem in terms of talent and development," says Dan Hushon, senior vice president and CTO at DXC Technology.
Hushon notes that many workers have the skills necessary to use software with embedded AI, like chatbots and analytical tools. What these workers lack is the ability to understand the AI's role in the software. As a result, they are hindered in their ability to troubleshoot the AI or to find innovative ways to implement it.
Building insurance employees' digital skills can also help insurers protect their own long-term future growth. Digital skills are key to leadership in the future, as well as to employees' ability to contribute and innovate in each position they hold over the course of their career, say Valarie Daunt, Donal Lehane and Dawn Keaney at Deloitte.
Best Practices for Building a Digital-Savvy Team
Workers want new digital skills. A PwC study by Carrie Duarte, Dan Staley and Bhushan Sethi found that US workers are willing to devote 15 hours a month on average to learn new technological skills.
Yet the study also revealed some hurdles to this drive for education. While most employees wanted to learn new skills, only 50 percent were satisfied with the resources available to upskill, and 46 percent said their employer wouldn't recognize or reward their efforts to learn new skills anyway.
To build a team of digital-savvy employees, employers need to realize that employee experience and digital technologies are no longer separate categories, says Joe McKendrick at Forbes. Rather, one influences the other.
The PwC study found a significant gap between leaders' and workers' views of newly-instituted technologies. For instance, while 90 percent of C-suite executives said that they considered human interaction when choosing new technologies, only 53 percent of their staff agreed.
To improve tech decisions, boost employee participation from the start, say Duarte, Staley and Sethi. "Choose people from a range of levels and departments across the company to play roles in the planning, selection and design of technology tools."
A regular system of gathering feedback throughout the implementation process ensures staff understand new technologies. It can also offer recommendations tailored to their specific roles, boosting productivity and engagement.
Today's workers, particularly those in the Millennial and Gen Z cohorts, know how quickly digital skills become obsolete. An edX survey found that only 20 percent of college graduates believed their college education translated directly to their chosen field.
One place to focus is on digital building block skills, says Anant Agarwal, CEO of edX. These skills include computational thinking, data science and machine learning. Digital-savvy employees have the ability not only to understand the current systems and platforms in use, but to understand why these tools are effective, how to make them more effective and how to make informed choices about replacements when and if an upgrade becomes necessary.
By focusing on digital building block skills instead of platform-specific training, insurance companies can encourage trainees to think about the how and why behind the tools they use.
By giving new employees a scalable skill set, insurers avoid the problem of training employees in a skill that will become obsolete.
Images by: primagefactory/©123RF.com, nd3000/©123RF.com, Aleksandr Davydov/©123RF.com