Own The Customer By Offering Greater Product Choice
Insurers know that innovation is key to survival in today's market.
A recent survey revealed that nearly 70% of insurance executives ranked the need to innovate as a top priority.i Simultaneously, change management was considered the biggest risk insurers face this year. ii
Many consider the swift evolution of technology as a driver behind the innovation imperative and the risks associated with change. Digital distribution, the internet of things (IoT), autonomous vehicles and smart homes are just a few of the emerging trends that are transforming the industry.
Rapidly evolving technology is generating demand for new insurance offerings and greater speed and efficiency in their delivery. EY concurs, predicting that the pace of product evolution will escalate over the coming year as will insurers' emphasis on streamlining the customer experience with top-tier digital tools.iii
Faced with the need to meet consumer demands through rapid innovation, some insurers have already jumped head-first into the rapids of change, focused on meeting more of the needs of their customers, more of the time.
"It takes over 7 months for the average carrier to develop a new product and a year for larger ones."
– Property & Casualty 360
Insurers Need Product Choice
According to Deloitte, offering new products provides insurers with an avenue toward growth in a slow-growing economy. It's easy to understand why by looking at an illustrative example.
Consider the case of a typical Consumer family. Mom and Dad both work and the two children participate in a variety of sports and activities. Their home is guarded by the best in-home security system and both parents drive newer cars loaded with safety features. For the most part, the family is an insurer's dream.
There is only one problem: Dad has had two fender benders in the last three years and one seat belt violation. For the insurer, Dad Consumer is no longer an auto risk they have the appetite to cover, but denying the family coverage for their vehicles will likely mean losing the lucrative homeowners and umbrella policies as well.
Risk is not the only factor influencing whether an insurer can meet the coverage needs of a consumer household. We could easily turn the scenario around, where Dad Consumer is a safe driver who has never had an accident or a ticket. Because his driving record is clean, he feels his insurer should compensate him for his lower risk. He's looking for a policy with a vanishing deductible, but his insurer doesn't offer this type of coverage.
In the end, the outcome is the same. The customer moves on to an insurer who can deliver their auto product and price requirements, and since bundling coverage usually provides discount incentives, the Consumer family takes their homeowners and umbrella policies to the new carrier as well.
Access to a wider berth of auto products would have net the insurer long-term customer loyalty by allowing them to continue to meet the Consumer family's needs, no matter how often their life situation changed, but developing the breadth of products necessary to fulfill the wide and evolving demands of today's consumer is a tall order.
It takes over 7 months for the average carrier to develop a new product and a year for larger ones.iv Then, distributing the offering requires changes to legacy systems, further driving up time-to-market. Given the hyper-competitiveness of the P&C industry and the fast pace of change, those products could be obsolete before they see the light in consumers' eyes.
As consumers continue to evolve in their product expectations, insurers need to overcome the hurdles of new product development and rapidly expand their product selection to meet a wider range of consumer expectations and requirements.
Introducing New Products Doesn't Have to Be Complicated
A Top-Five insurer (by group) was recently in the same situation as the fictional carrier cited above. They were watching too many customers walk away because they were unable to meet customer price points or didn't have the appetite to take on the risk.
The insurer knew they didn't have the time or resources to develop all of the potential products a consumer may need, but wanted to quickly stop losing customers and establish a course for building long-term relationships. To do that, they realized they would need more advanced capabilities to meet consumers' demand for product choice and fast and efficient purchasing.
They selected a SaaS-based digital distribution platform developed by BOLT Solutions that seamlessly appended to their existing legacy systems, united product silos and delivered a single point of access to all customer data. It also provided a tightly integrated market network of robust product options that the insurer could bundle with their own. The dual capabilities of top-tier digitization and product choice allowed them to meet more of the customer's needs, more of the time, and to own the household as needs and preferences changed.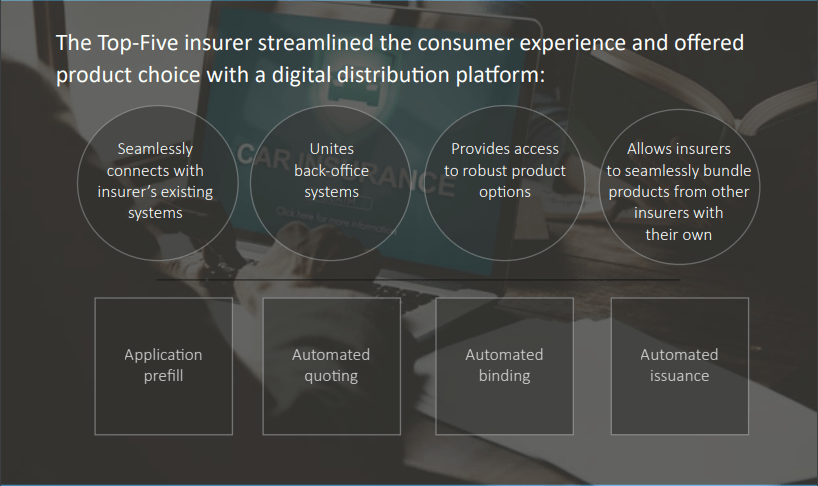 The platform provided the insurer with the means to prioritize their own products while still meeting customer needs and streamlining the purchasing journey: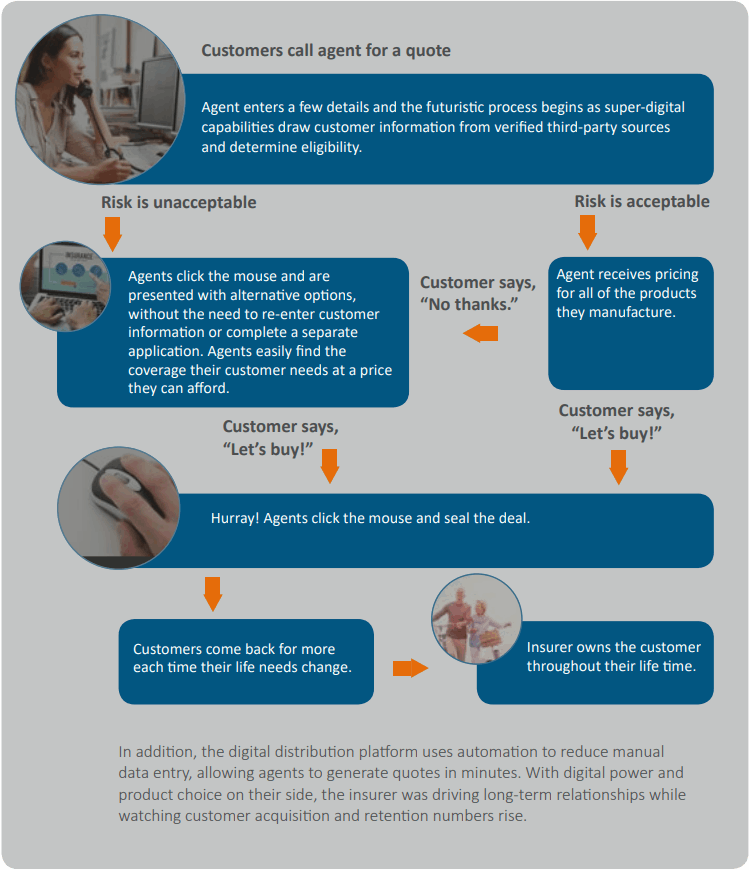 The Proof is in the Results
As with any initiative, success is measured in outcomes. Immediately after completing the program initiation, the insurer began to see results.
Because agents could access all back-office systems from a single location, the platform provided seamless bundling of the insurer's products with those from other carriers.
Agents now experience far greater efficiency as they rapidly quote, bind and issue multiple products in a single transaction, and please more customers with greater product choice. In fact, the insurer is selling 1.6 more of their own products for every bundled solution customers buy, adding up to $70 million in premiums over a ten-month period.
Perhaps best of all, the insurer introduced comprehensive digital capabilities and expanded their product selection without complicated enhancements to legacy systems or getting caught in the lengthy, costly mire of extensive product development initiatives. The insurer now has the ability to enter and withdraw from new markets with ease while owning the customer household across their lifetime.
On track to achieve $100 – 150 million in premiums in 2017, the insurer plans to add more products from other carriers as well as agents to support their continued growth, generating long-term loyalty and repeat business as customers return for additional products in the future.
1 "Embracing Possibility, Boosting Innovation." 20th CEO Survey. PwC, 2017. Web.
2 "Insurance Banana Skins 2017: The CSFI Survey of the Risks Facing Insurers." CSFI/New York. PwC, 2017. Web.
3 "2017 US Property-casualty Insurance Outlook. EY. EYGM Limited, 2017. Web.
4 Robert Regis Hyle. "P&C Insurers Plan Major Spending Increase for New Product Development." Property Casualty 360. ALM Media, Jul 24, 2013. Web.