Distribution Management In An Omni-Channel Age: The Key to Growth in P&C Insurance
"Insurance buyers are changing, They are being conditioned by the internet to expect that they can interact with insurers in any manner they choose. They expect to be able to buy direct online, to call the insurer directly, to work with agents, and to access insurance at the same time that they purchase products. They have more insurance literacy than ever before, and they expect transparency and control over the buying process."
Karlyn Carnahan,
Research Director with Celent's Insurance Practice
There is no lack of volatility in property and casualty insurance right now. On the one side, customers are demanding greater personalization, transparency, and service. On the other, new entrants and early digital frontrunners are nibbling away at market share and growing profits through leaner, more competitive operations.
The industry seems up for grabs, and it is poised on the pinnacle of customer-centricity.
"Insurance buyers are changing," says Karlyn Carnahan, research director with Celent's insurance practice. " They are being conditioned by the internet to expect that they can interact with insurers in any manner they choose. They expect to be able to buy direct online, to call the insurer directly, to work with agents, and to access insurance at the same time that they purchase products. They have more insurance literacy than ever before, and they expect transparency and control over the buying process."
In this environment, insurers will need to attract more customers and keep them longer to see measurable growth. They will also need to generate customer-friendly and costsaving efficiencies across the distribution process, prompting carriers to become omni-channel insurers. However, while adding new channels, distributors, and markets increases customer satisfaction, it also makes the internal business environment more challenging.
As a result, simplifying distribution management has become a top-level priority across the industry, and insurers are turning to insurance distribution platforms to accelerate growth. The goal is to quickly achieve a smoother, more efficient operation that attracts customers, improves retention and lowers distribution costs.
The Case for Omni-Channel Distribution
Insurance has long been viewed as too complex for the individual to navigate without the services of an agent, but consumers are increasingly challenging this notion thanks to technology advancements embraced by other industries. Kayak and Google Flights, for example, allow customers to shop multiple airlines at once and view competitive pricing and routes, before buying directly from the provider of their choice.
With only a handful of physical stores, Amazon has rapidly risen as a retail destination. Customers appreciate having a place to shop a vast array of products, educate themselves on the pros and cons, and then make an informed purchase.
The simplified shopping experience and pricing transparency offered in other industries have empowered the consumer and created a doit-yourself economy. As a result, consumers now feel confident about comparing insurance coverage online and conveniently securing policies through digital channels.
Price-sensitive shoppers are using aggregator sites to compare policy prices before they buy. Others are finding insurers who offer coverage direct through online channels and shopping for insurance on their own time. A large portion of consumers still work with an agent, but research conducted by J.D. Power indicates that satisfaction is highest when customers can work with insurers across multiple channels.1
Carriers have responded to changing consumer trends with a mixed bag of tricks. While some are purchasing leads from aggregators, others are adding their own direct-toconsumer product sales through digital channels. In a recent survey conducted by Accenture, 81 percent of insurers said that they planned to implement a wholly digital sales process where agent interactions with customers were limited to handling more complex functions.2
Thirty-one percent of insurance executives see this wave overtaking the industry within the next three years, with 31 percent of P&C sales conducted digitally from start to finish.3 Even in the small business commercial market, insurance leaders expect 24 percent of sales to be wholly digital in three-year's time.4
Expectations like these don't negate the need for omni-channel distribution. Instead, they serve to highlight the glaring need for an omni-channel strategy where customers and their data flow freely across digital and more traditional means of engagement.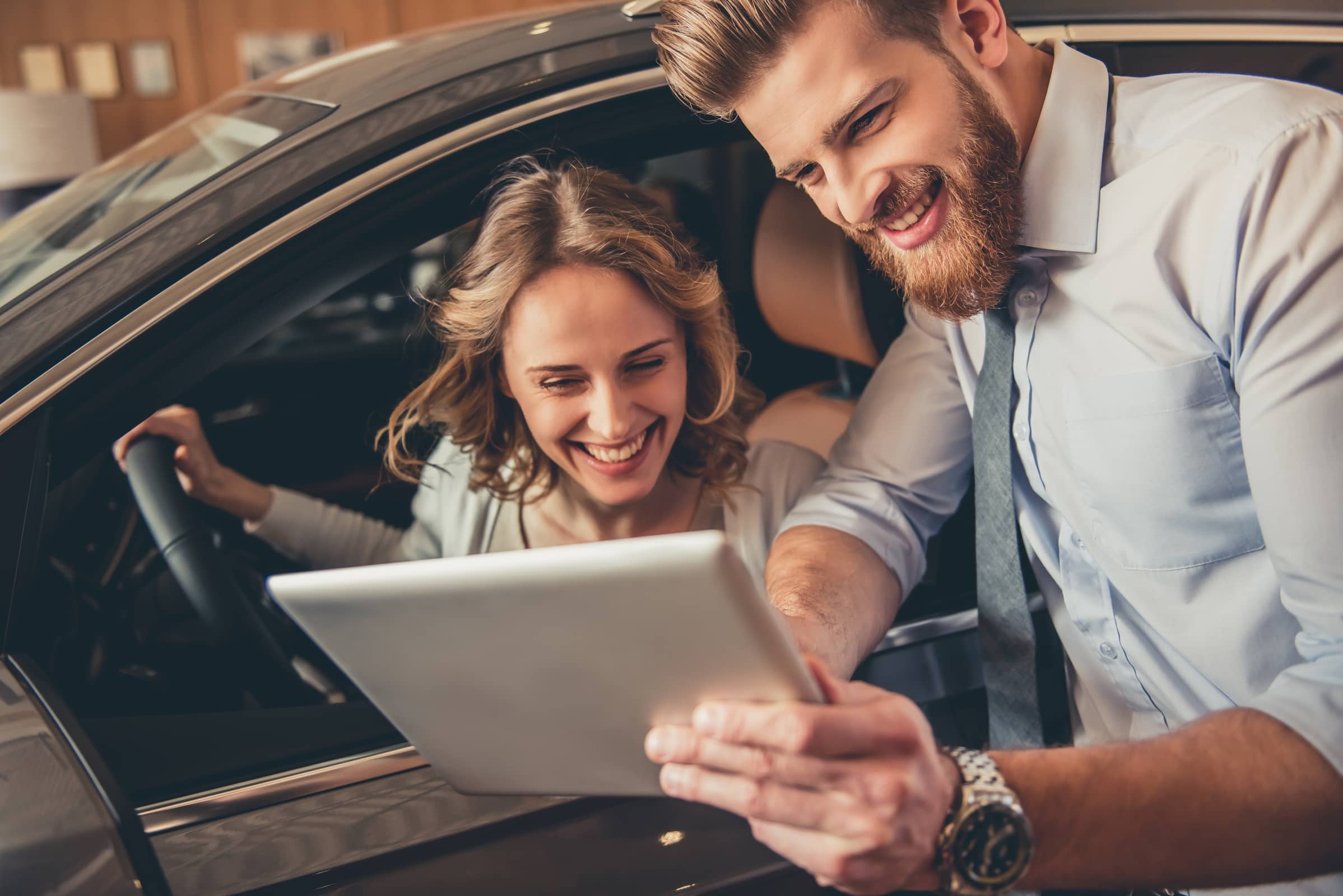 Eighty-one percent of insurers said they plan to implement a whollydigital sales process where agent interactions are reserved for complex inquiries. Thirty-one percent of insurance executives predict this wave will overtake the industry within the next three to five years, highlighting the need for an omni-channel strategy where customers and their data flow freely across digital and traditional means of engagement.
Realizing the Full Potential of Omni-Channel Distribution
In property and casualty insurance, an increasing number of competitors are vying for a shrinking market. New consumer growth for auto insurance, the biggest player in the P&C industry, is less than 2 percent a year.5 To facilitate growth in a hyper-competitive environment, carriers need to create a leaner operation that reduces the high costs associated with distribution and new customer acquisition.
A study by EY reports that 15 to 40 cents of every premium dollar is given to distribution,6 while CB Insights puts the average cost to acquire a new customer somewhere between $500 and $800.7 Multiply this figure by the number of new customers added to insurance rosters each year, and you see the value of customer retention, as well as the need for strategies that relieve some of the high-cost burden associated with distributing products.
Digitizing the omni-channel experience promotes growth by making it easier to acquire new customers, but also by generating cost savings. The aggressive employment of automation, such as what is used in digital processes, can slice nearly $250 billion dollars off of industry costs.8
For insurers, the numbers paint a clear picture, but generating the vision for transformation is not as simple. For example, four in ten respondents to a recent survey lack a process for establishing a business case for automation. Additionally, while 73 percent of insurers report having received customer demands for digital distribution, only 27 percent are happy with their efforts to deliver on customer expectations.9
Most concerning is the fact that only 23 percent of insurers are able to provide a consistent cross-channel experience to their customers10 in an environment where 45 percent of consumers use more than one channel when researching and purchasing coverage.11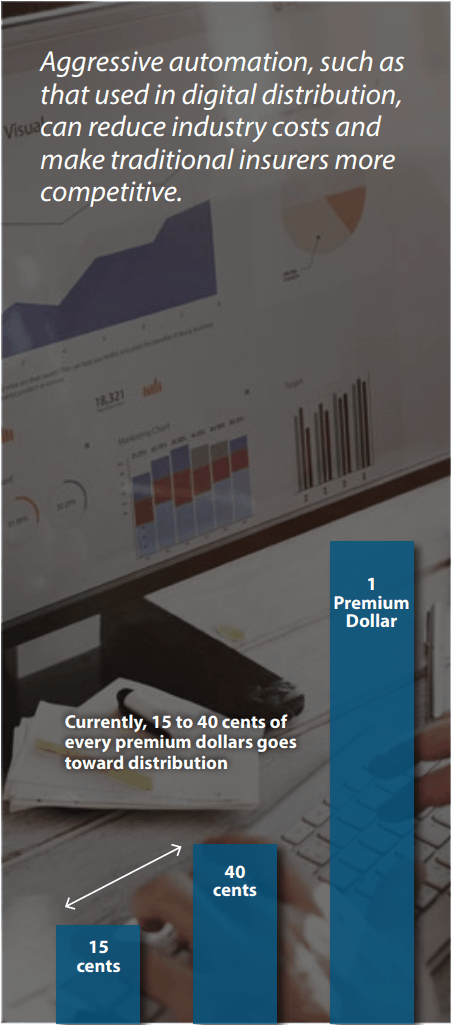 Why Managing Omni-Channel Distribution Is So Complex
Make it fast, make it cheap, and be there when needed. Customer expectations aren't so hard to understand when broken down to the basics. What becomes difficult for insurers is meeting customer experience standards given the multiple channels and systems that are involved in the insurance-buying process.
The problem with most insurers' forays into digital distribution is that online channels usually operate in parallel with the existing agent force, further complicating an already expanding distribution mix. Because digital direct leads, as well as those from aggregators and traditional agents, all originate through separate channels, the buying experience is fragmented and often fails to meet customer standards. According to recent research, less than 58 percent of insurers are meeting established best practices for cross-channel personalization.12
A quick review of the auto insurance market paints a realistic picture of where the industry is going. Overall customer satisfaction hit an all-time high according to the J.D. Power Customer Satisfaction Study published in 2018.13 Insurers gaining top billing were those who offered a competent mix of digital and traditional interaction channels.14
The challenge for carriers in managing multiple distribution channels begins with core policy administration systems. These Cadillacs of carrier operations were built to last. They contain all information, past and present, on a customer and policy and they form the basis of the insurance transaction.
The problem is, each is siloed by coverage type. Because there is no visibility between systems, insurers are unable to deliver a complete view of the customer, making it difficult for a customer to move from channel to channel with speed and agility.
If the customer begins an application through one channel, such as digital, but then moves to another, say an agent, the information doesn't travel with him or her.
Sixty-two percent of insurers consider legacy systems to be their biggest challenge to customer acquisition.
The agent has no visibility into the customer's online activity.
The same problem unfolds when customers try to quote multiple policies. Whether working online through digital direct channels or through an agent, without a single view into all customer data, separate applications need to be submitted to quote the carrier's segmented policies.
According to Samantha Chow, senior analyst with Aite Group, 62 percent of insurers surveyed consider legacy systems to be their biggest challenge in engaging customers.15 Lacking a broader customer view limits an insurer's ability to differentiate their brand and meet experience standards in today's customer-centric environment.
Consumers no longer subscribe to the purchase-andforget-it mentality, where coverage is secured and forgotten until renewal or the customer suffers a claim. Instead, consumers want insurers to fully partner with them on mitigating risk. A recent report by Accenture revealed that 64 percent of customers want insurers to deliver real-time alerts on accident frequency when driving, and 68 percent want to be warned about carbon dioxide, smoke, and fire hazards in the home.16
In this role, insurers engage as life partners, by using their vast stores of data to help customers better mitigate risk. To play this part, insurers will need to do more than push their products to the masses. They will need to customize coverage to the individual, often delivering policies and services that they may not have in-house.
Distribution Management in an Omni-Channel Environment
McKinsey reveals that a single incumbent auto insurer could more than double profits over the course of five years through digitally-generated efficiencies.17 This is where the difference between insurers with an online presence and digitally-enabled, omni-channel insurers really comes into play.
Digitally-enabled, omni-channel insurers use digital in a way that improves the efficiency of the quoteto-issue lifecycle. Prefill capabilities, for example, speed application processing while automation allows consumers to purchase coverage with the click of a mouse. As a result, insurers improve customer acquisition and retention while also cutting costs.
When it comes to managing the omnichannel elements of distribution, insurers face three major challenges:
• Culture: "Glacially slow in response to change" is how one respondent to PwC's Banana Skins report described the insurance industry. Cautious in the face of emerging trends, insurers have moved carefully toward digital adoption, leaving many organizations well behind the industry curve. Adding to the severity, lack of top technology talent has put a crimp on the industry, making it difficult for insurers to strategize on digital adoption and move forward with transformation plans that ensure omni-channel functionality. In a survey of insurance executives conducted by Novarica, accessing top talent was the number one challenge facing the industry according to respondents.18
• The core system conundrum: One of the biggest deterrents to creating a winning omni-channel environment in the insurance industry is the presence of core administration systems. McKinsey has found that legacy system complexity drives IT spending up while productivity plummets,19 but overhauling these complicated siloes isn't for the faint of heart. While insurers may be expecting the high price tag associated with buying and integrating new systems, Novarica predicts that carriers could easily face up to $10 million in hidden costs when migrating poorly structured logic to new systems.20
• Change management: Adding digital channels changes the way an organization does business and managing the impact across people, processes, and technology is an important part of ensuring a consistent cross-channel experience. Again, lack of digital talent and knowledge in this area holds insurers back from quickly and efficiently making meaningful changes.
Adding further complexity, all of the issues listed above are intertwined and feed into each other in the management of distribution. For instance, uniting core systems changes the way the consumer-facing call center operates, including when an agent is brought into the customer equation and how they respond. As a result, insurers need a handle on change management as they implement digital channels and embark on an omni-channel journey.
McKinsey has found that legacy system complexity drives IT spending up while productivity plummets,but Novarica predicts that carriers could easily face up to $10 million in hidden costs when migrating poorly structured logic to new core systems.
Enter the Digital Distribution Management Platform
Seeing where the future of insurance is going, nearly 30 percent of insurers are already joining with startups or external partners, and an additional 18 percent plan to do so in the near future.21 The goal is to not only prioritize digital innovation, but to gain control over distribution by creating a freer flow of the products and services consumers need to mitigate risk.
Digital distribution management platforms collect, organize, display and analyze near real-time information to manage multiple elements of the distribution system. They address the biggest challenges insurers face in establishing digital channels of engagement and managing multi-channel operations.
Because digital platforms append to existing technology, there is little down time and costs are low. Core systems are united behind a single point of access, providing a 360-degree view of the customer at a fraction of the cost of core systems replacements. Insurers also benefit as customer information becomes visible across the channel spectrum, allowing consumers to move from channel to channel without experiencing a degradation in the speed or efficiency of the service they receive.
Automating the quote-to-issue lifecycle improves the overall consumer experience by delivering real-time pricing on coverage options from a single application. Consumers then move fluently to purchasing, autobinding and issuing policies in short order.
It's important to note that platform providers, in addition to having deep insurance knowledge, are also technology providers. They attract some of the best talent to identify areas of concern early in the planning stages of transitions. They then oversee change initiatives within the organization and remain on hand to help with platform upgrades.
Collaboration is also a benefit of digital distribution management platforms as they allow multiple participants to connect, opening doors to a new integrated way of doing business.
Consumer risk is changing and creating unprecedented coverage needs at large scale. Demand for auto coverage is falling while interest in newly emerging policy types, such as cybersecurity or marijuana-friendly policies, is emerging.
If a carrier is unable to deliver policies to protect risks like these, they face the prospect of losing the customer. By joining marketplace ecosystems enabled by some digital distribution management systems, insurers instead gain the opportunity to offer policies from other carriers, paying only a commission and owning the renewal.
Partnering up for Success in the Omni-Channel Age
According to Bain, digitization can reduce the cost of acquiring customers by 39% to 43%,22 leading to stronger growth, but raising customer acquisition and retention is also necessary to improve bottom line outcomes.
Gaining market share in an increasingly competitive environment requires insurers to deliver a smooth, efficient omni-channel customer experience. Leveraging the native prowess of digital distribution platform providers helps insurers to both manage distribution and meet consumer experience standards in the digital age.
Premium increases of up to 14 percent and a 12% increase in customer satisfaction have resulted as consumers smoothly engage across channels and insurer cost structures are more favorably aligned to profitability.23
1. "Auto Insurance Customer Satisfaction Reaches Record High, J.D. Power Finds." J.D. Power. J.D. Power Press Release, June 14, 2018. Web.
2. John Cusano. "Reimagining Insurance Distribution: Accenture Distribution & Agency Management Survey 2015." Accenture, 2015. Web.
3. John Cusano. "Reimagining Insurance Distribution: Accenture Distribution & Agency Management Survey 2015." Accenture, 2015. Web.
4. "Auto Insurance Customer Satisfaction Reaches Record High, J.D. Power Finds." Cision PR Newswire. June 14, 2018. Web.
5. Tom Super and Colleen Cairns. "Five Trends Influencing P&C Insurance Purchases." ALM Media. Property Casualty 360, June 19, 2018. Web.
6. "The Future of Distribution: Insurers Grapple with a Rapidly Changing Landscape." EY. Insurance Governance Leadership Network, May 2017. Web.
7. Kyle Nakatsuji. "Transforming Insurance: Insurance 2.0 and the Evolution of Distribution." CB Insights. CB Insights Research Brief, Mar. 8, 2016.
8. Nathan Golia. "Automation Could Lift Insurance Revenue by $243 Billion." Source Media. Digital Insurance, Jul. 12, 2018. Web.
9. "BOLT® Solutions, Inc. Survey Finds P&C Insurance Carriers Know the Importance of Innovation, but the Path to Get There Isn't as Clear." BOLT Solutions, Inc. BOLT, Sept. 27, 2017. Web.
10. "Insurance Nexus Global Trend Map 2017." Insurance Nexus, 2017. Web.
11. Joseph Dobrian. "2018 U.S. Insurance Shopping Study: Auto Insurers Double Down on Ads and Digital Investment as Shopping Stagnates." J.D. Powers, Apr. 26, 2018. Web.
12. Tom Super and Colleen Cairns. "Five Trends Influencing P&C Insurance Purchases." ALM Media. Property Casualty 360, June 19, 2018. Web.
13. Tom Super and Colleen Cairns. "Five Trends Influencing P&C Insurance Purchases." ALM Media. Property Casualty 360, June 19, 2018. Web.
14. "Auto Insurance Customer Satisfaction Reaches Record High, J.D. Power Finds." Cision PR Newswire. June 14, 2018. Web.
15. Samantha K. Chow. "Engagement in Insurance: A Channeless Strategy." Aite Group, Feb. 13, 2018. Web.
16. "Voice of the Customer: Identifying Disruptive Opportunities in Insurance Distribution." Accenture, 2017. Web.
17. Tanguy Catlin, Johannes-Tobias Lorenz, Christopher Morrison and Holger Wilms. "Time for Insurance Companies to Face the Digital Reality. McKinsey & Company. McKinsey & Company Financial Services, March, 2017. Web.
18. Rob McIsaac. "Insurance IT Talent Management". Novarica, Mar. 2017. Web.
19. Björn Münstermann, Georg Paulus, and Ulrike Vogelgesang. "What Drives Insurance Operating Costs?" McKinsey & Company. Financial Services, Jul. 2015. Web.
20. "The Hidden Costs and Challenges of Insurance Legacy Systems Modernization". Novarica and TATA Consultancy Services. Web.
21. "Digital Insurance: Reimagining Insurance Distribution". Accenture. Accenture Latest Thinking, 2018. Web. https://www.accenture.com/us-en/insight-insurance-distribution-survey.
22. Henrik Naujoks, Florian Mueller and Nikos Kotalakidis. "Digitalization in Insurance: The Multibillion Dollar Opportunity." Bain & Company, Mar. 20, 2017. Web.
23. "The Omni-Channel Distribution Advantage". BOLT Solutions, Inc, 2017. Web. https:// www.boltinc.com/bolt-platform/.