Top Automotive Trends of 2020: Are P&Cs Ready?
Digital transformation. Customer-centric business. The auto industry faces many of the same pressures as the insurance industry. Like insurers, automakers are finding new ways to adapt and address these demands and trends.
P&C insurers who understand and prepare for upcoming automotive trends position themselves to address their own challenges more effectively — and to be the insurer their customers want and need.
Digital Transformation Reaches the Auto Industry
Digital transformation continues to affect nearly every aspect of our lives, including our relationships with our vehicles. From enhancing the driving experience itself to personalizing the way we buy cars, digital transformation remains one of the top automotive trends of 2020.
Connectivity and Automation Continue to Expand
Digital communications, artificial intelligence and similar technologies continue to shape our lives. In 2020, they'll continue to impact the way we drive as well.
In the automotive world, the biggest topic in connectivity remains vehicle-to-vehicle, or V2V, communication. In 2017, the National Highway Traffic Safety Administration (NHTSA) proposed a rule that all new vehicles be equipped with V2V capabilities starting in model year 2023.
"The rule not only requires the tech to be on board; it also standardizes the messages that vehicles will share," says automotive journalist Kristen Hall-Geisler. V2V communication technologies would allow for further advancement of autonomous vehicles and could potentially prevent accidents.
"WIthout a mandate to require and standardize V2V communications, the agency believes that manufacturers will not be able to move forward in an efficient way and that a critical mass of equipped vehicles would take many years to develop, if ever," says the NHTSA in its proposed rule.
Some experts agree that V2V communication is key to the future of autonomous vehicles. "Don't expect to see widespread acceptance and production of driverless cars for at least another decade due to the need for a connected infrastructure and advancement of other technologies, such as V2V," says Chad Morley, vice president of automotive and transportation at Jabil.
Automakers continue to take steps to integrate other automated or self-governing technologies into vehicles, however. For instance, Toyota recently announced the integration of an AI system called Concept-i into several of its models.
The goal of Concept-i isn't to drive the vehicle, says Bob Carter, senior vice president of automotive operations for Toyota. Rather, it's to enhance the experience of the driver by allowing the driver and vehicle to communicate in new ways. Integrated tools like Concept-i and telematics can also help insurance companies set rates and address risks more effectively.
Customers Seek a Better Buying Experience
Like insurance, the automotive industry is facing new pressures from customers who want their purchasing experience to be personalized, efficient and effective. As a result, many automakers and dealerships are exploring new ways to use technology to improve the buying experience, says Daniel Newman, principal analyst at Futurum Research and CEO of Broadsuite Media Group.
For example, German automaker Audi has been using virtual reality to enhance the showroom experience since 2016. Currently, the company offers a VR car-configuring program at more than one thousand of its dealerships. The program not only allows customers to explore vehicle models, but also allows them to add or remove features in order to determine exactly what they want before they buy, says Lorenz Schweiger, who is part of the Audi business innovation group.
Audi customers still have to visit an Audi showroom to explore the new tech. Toyota, however, is attempting to take the experience one step closer to the customer by embedding augmented reality (AR) in its web advertising. The technology "creates a highly engaging online vehicle experience, and highlights Toyota models in a personalized way for each guest," says Cynthia Tenhouse, vice president of vehicle marketing and communications at Toyota North America.
Toyota plans to use AR and 3D projection technology to create projections of vehicle exteriors that customers can examine anywhere. They'll be able to look at the details of the virtual vehicles and project them into spaces like their own driveways or garages, allowing them to experience what it would be like to own the vehicle itself.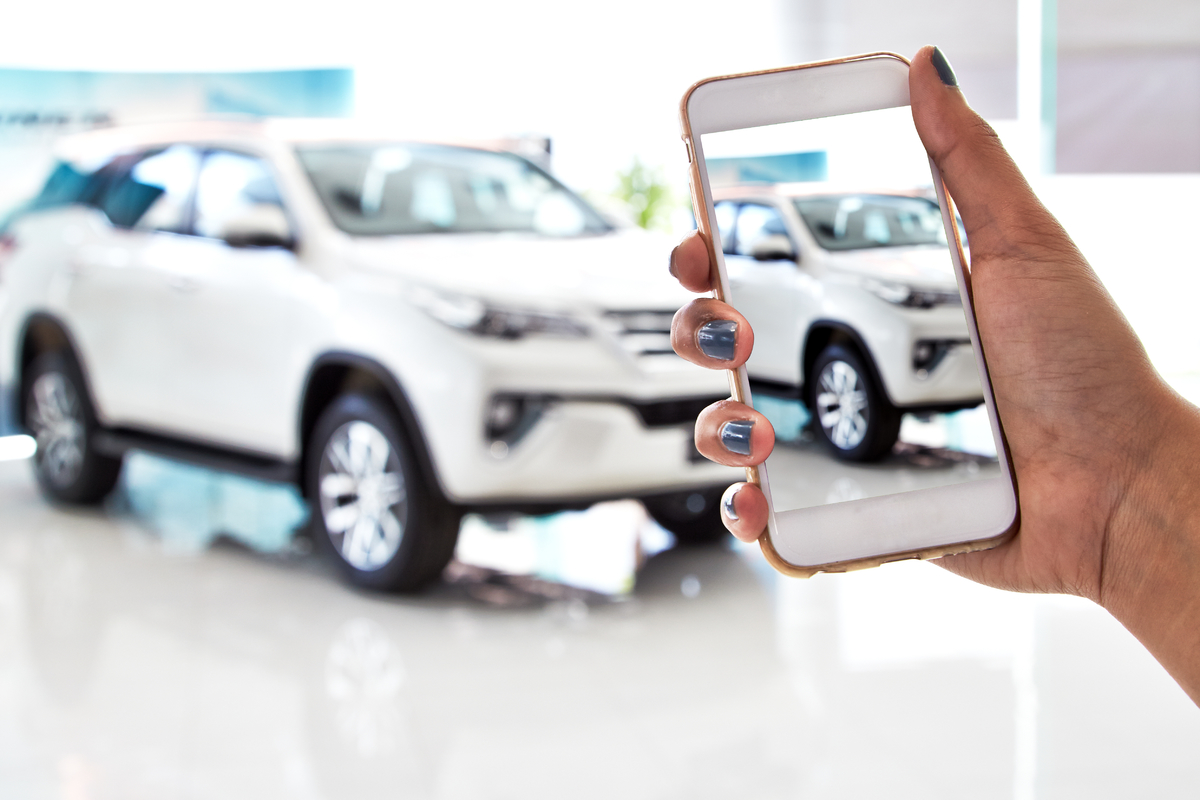 The Used Vehicle Market Is On the Rise
The market for used vehicles has always grabbed the interest of customers seeking better deals on vehicles. In 2020, however, dealerships will also invest more time and energy into their used vehicle business, says reporter David Muller at Automotive News.
The used vehicle market gives dealerships more creative control over marketing and sales than the new-vehicle market, Muller writes. It's also more lucrative: On average, dealers make $140 profit from the sale of a new vehicle, but $950 on a used vehicle less than five years old. For used trucks, the average profit margin is even higher.
Used vehicle sales are currently the strongest part of the retail auto sales market, making this one of our key automotive trends. "From a retail sales perspective, it's driving the finance growth, certainly driving the profitability of dealers," says Jonathan Smoke, chief economist at Cox Automotive.
For customers, used cars are often more affordable, while offering similar reliability to a new purchase. They also appeal to customers seeking lower insurance rates. Meanwhile, auto insurers seeking to build strong ecosystems can partner with used car dealerships to offer enticing insurance options at the point of sale.
The used vehicle market is expected to stay strong into 2020 and beyond. "Used vehicles will likely grow in popularity as new-car substitutes if incentives continue to stagnate and interest rates creep up. A large quantity of near-new used vehicles are expected to come into the market that will undoubtedly offer a compelling value message that resonates with discerning new-car shoppers," says Edmunds' executive director of industry analysis Jessica Caldwell.
We're Changing How We Build Vehicles
Four wheels, a steering column, seats and a roof: Cars have been recognizable as such ever since Henry Ford introduced the Model T in 1908. Yet their components, and even the materials from which they are made, have changed dramatically — and will continue to do so in 2020 and beyond.
Automakers Embrace Electric Vehicles
"Without much doubt, the automotive story of 2020 will be the avalanche of new full electric and plug-in hybrid vehicles coming to showrooms," writes Brian Cooley at CNet. While he says electric vehicles won't reach a "tipping point" in 2020, he writes that they will appear in nearly every sector of the new car market for the first time.
Electric vehicles are expected to increase in popularity even though financial incentives for the purchases are beginning to shift. For instance, California recently reduced the tax credits available for most electric vehicle purchases, although low-income buyers are still eligible for higher rebates, according to Melanie Turner, information officer at the state's Air Resources Board.
In addition, the federal electric car tax credit was not included in the spending bill Congress passed in late 2019, says Sean Szymkowski at CNet, eliminating a potential incentive to buy electric vehicles.
Despite these setbacks, however, improvements in battery technology and the sheer number of new options available are likely to keep customers interested in electric vehicles through 2020, says energy consultant Christopher McFadden at Interesting Engineering.
Carbon Fiber Construction Promises to Improve the Driving Experience
Carbon fiber offers improved rigidity in the vehicle structure without adding weight, allowing vehicles to be both sturdier in a crash and more fuel efficient. While the introduction of carbon fiber into vehicle construction isn't new, its expansion from the realm of exterior structures to entire inner vehicle bodies is a growing trend, says Ryan Mandell, director of performance consulting at claims processing solutions provider Mitchell International.
For instance, Volvo's Polestar 1 hybrid and Polestar 2 electric vehicle have inner structures composed primarily of carbon fiber. General Motors has also begun using carbon fiber in its Silverado and Sierra pickup truck beds. Ford's Mustang GT350R and Shelby GT500 both offer carbon fiber wheels as an optional upgrade package as well.
Better safety, a hot used-car market and the increasing use of driver assistance technology promise big changes for the automotive industry and for insurance companies that cover those drivers and vehicles. By staying alert to these automotive trends, insurers can tailor their own business to reach customers at the crucial moment.
Images by: lightfieldstudios/©123RF.com, pongans68/©123RF.com, fahroni/©123RF.com